It's Master's week at Augusta National and I for one, could not be more excited!
There are some huge storylines to be had here. Tiger is defending., Brooks and Rory are hunting, and Bryson is bombing!
Based on his driving range performance earlier this weekend at Augusta (see video below), I was able to overlay his distance over the par 4 and 5's of Augusta to get an idea of where he'll be attempting to play to should he use driver.
Keep in mind that Bryson won't always use driver, and on some holes it will be downright dangerous. But for the purpose of fun and hilarity, I overlaid his practice drive distance over all of the par 4's and 5's.
Enjoy!
Hole 1 – Tea Olive (Par 4 – 445 yards)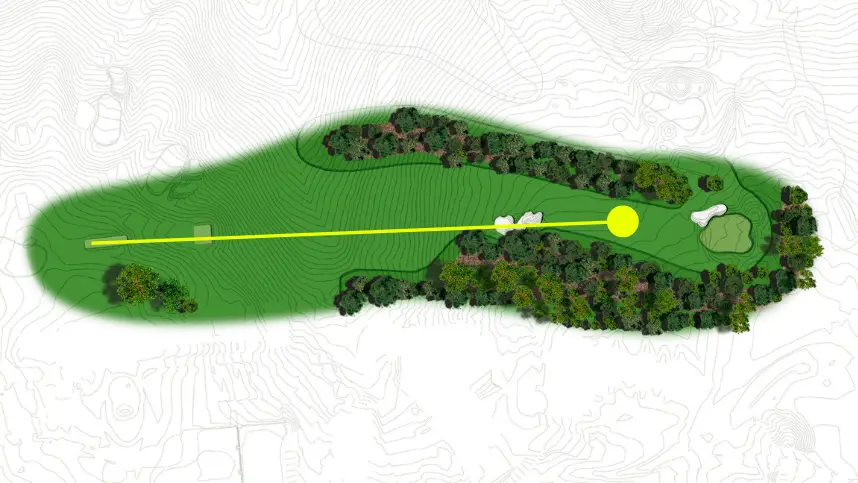 Like I mentioned above, there will be holes where it might not make sense for him to pull out the big stick, and hole 1 could very well fit that situation. The fairway narrows considerably and has a slight dogleg to the right past the bunkers. But if he were to use driver here, he'd be looking at about 82 yards to the middle.
Hole 2 – Pink Dogwood (Par 5 – 575 yards)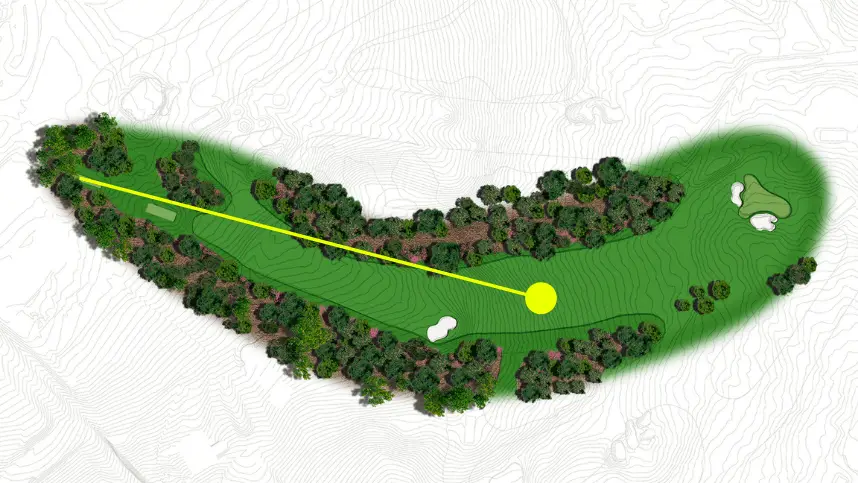 Hole 2 sets up perfect for Bryson's power draw and will leave him just over 210 yards on his approach into this par 5. This would be no more than a 6 or 7 iron for Bryson.
Hole 3 – Flowering Peach (Par 4 – 350 yards)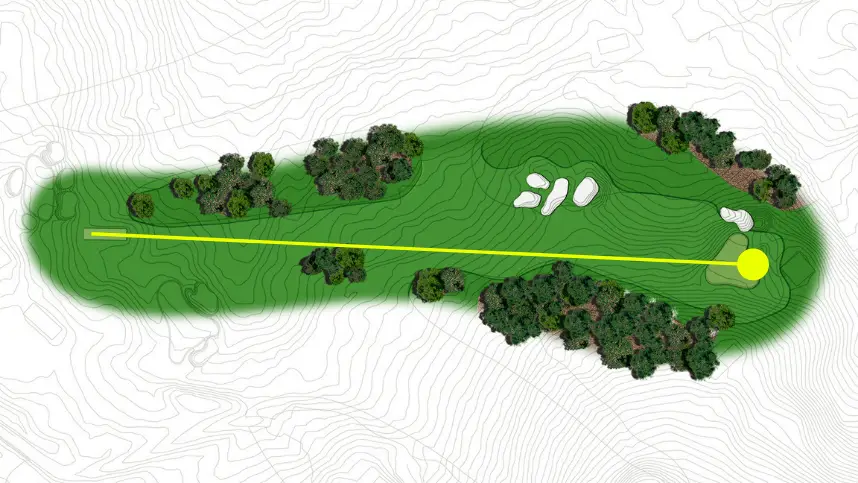 Hole 3 he may actually need to club down to his 3 wood to not overshoot the green. I fully believe he is going to be playing this hole like a par 3.
Hole 5 – Magnolia (Par 4 – 495 yards)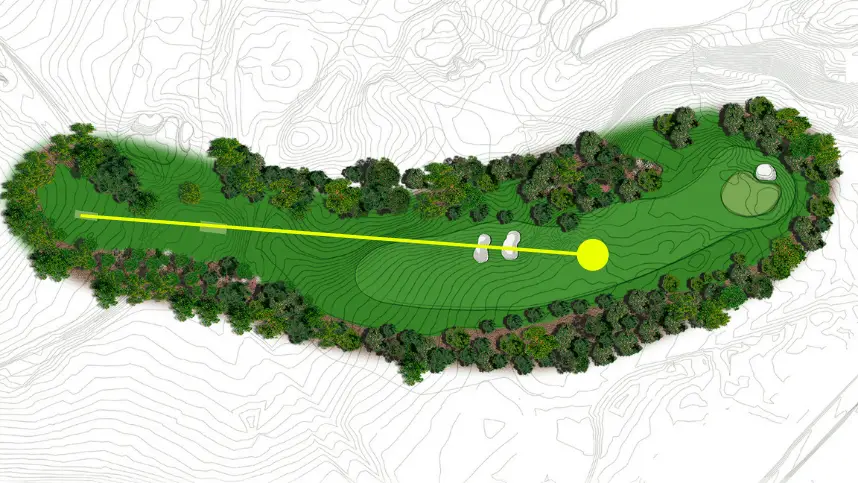 While many players actually take less than driver on this hole to avoid the bunkers. On Magnolia, Bryson will be able to take both fairway bunkers completely out of play with his driver and leave himself only about 130-140 yards in.
Hole 7 – Pampas (Par 4 – 450 yards)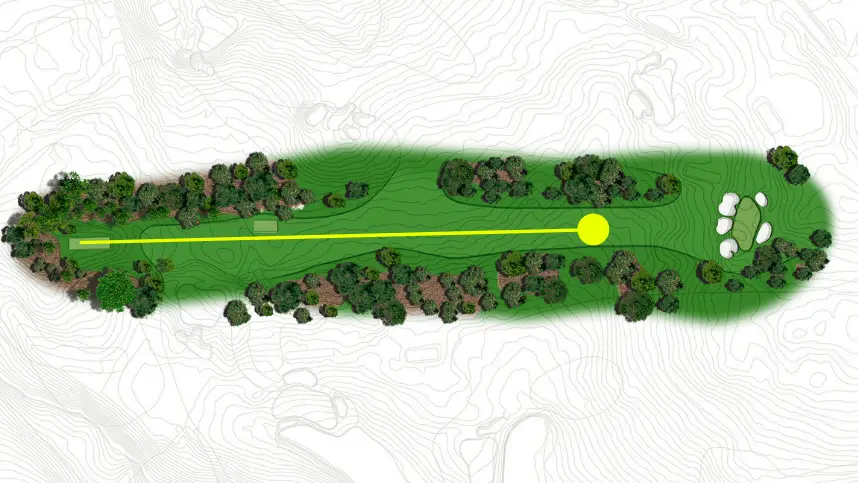 For Pampas, this is where I could see Bryson using some restraint. The hole is very straight and narrow. It will require more accuracy than distance to avoid trouble here. However, if he does decide to let the big dog eat, he'll be looking at about 90 yards for his second shot.
Hole 8 – Yellow Jasmine (Par 5 – 570 yards)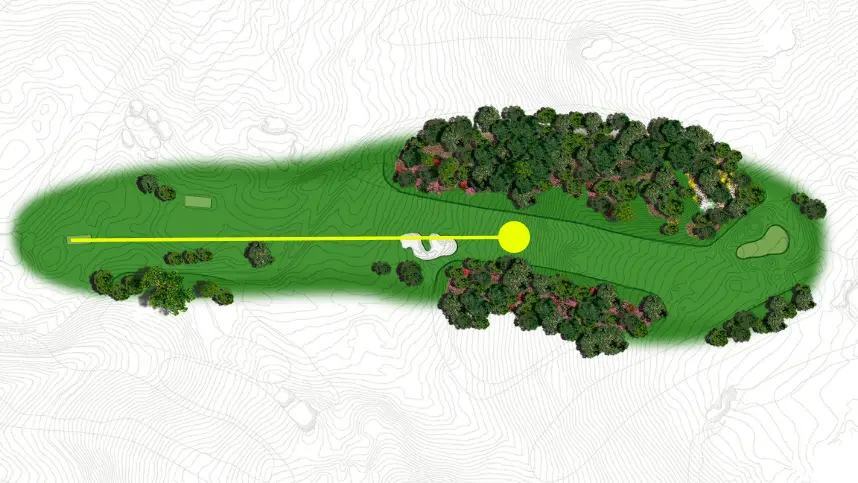 Once again Bryson will be able to take the fairway bunker completely out of play with his driver on hole 8 and leave only about 210 yards to the middle of the green. This should be no more than a 6 or 7 iron for him should he find the fairway.
Hole 9 – Carolina Cherry (Par 4 – 460 yards)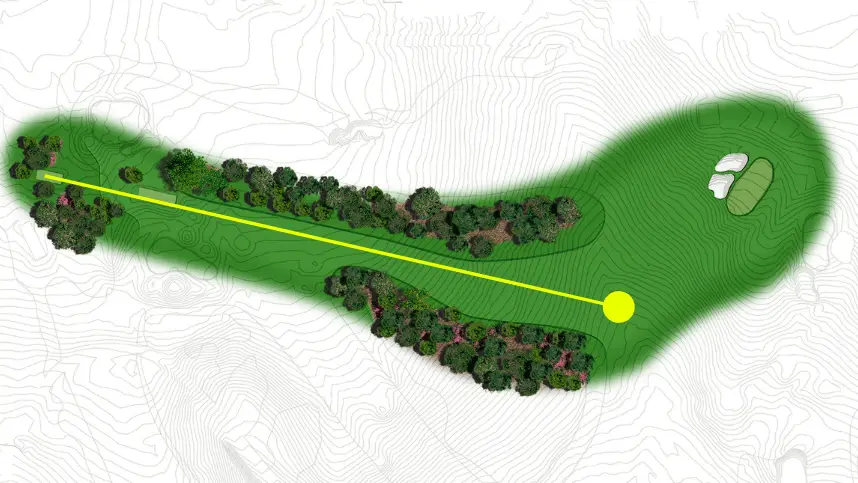 Hole 9 sets up perfectly for the power draw he plays with his driver. He'll be able to clear all tree trouble and be in the middle of a wide open fairway. His view into the green likely won't even bring the greenside bunkers into play. Once again, his power here creates a birdie opportunity.
Hole 10 – Camellia (Par 4 – 495 yards)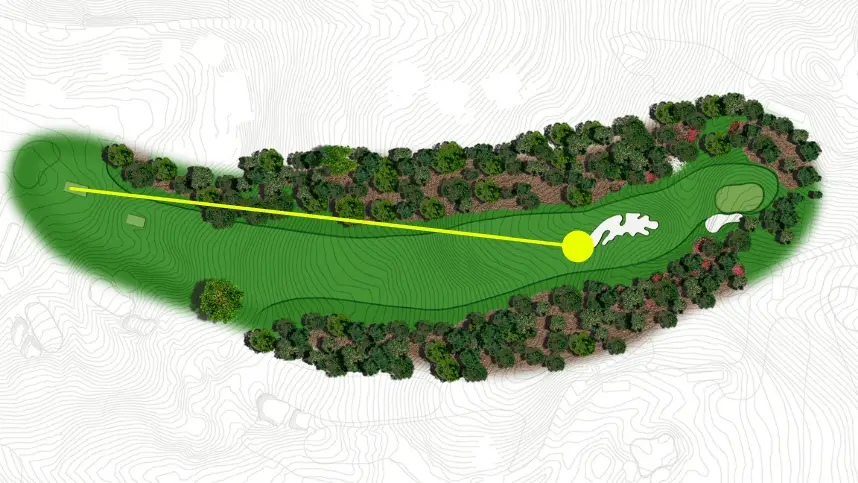 I also don't think he'll use driver on 10 – This would put him in danger of hitting the fairway bunker that literally isn't even in play for every other golfer. It would be entertaining though if he does end up in it once!
Hole 11 – White Dogwood (Par 4 – 505 yards)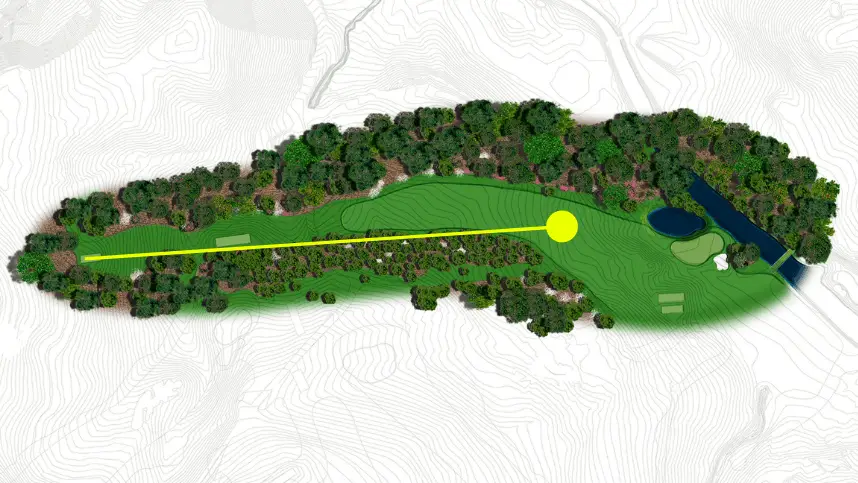 White Dogwood also doesn't set up well for Bryson's driver and he will most likely just play himself into position here with a 3 wood or hybrid. His shot shape would bring the left trees well into play should he unleash the kraken.
Hole 13 – Azalea (Par 5 – 510 yards)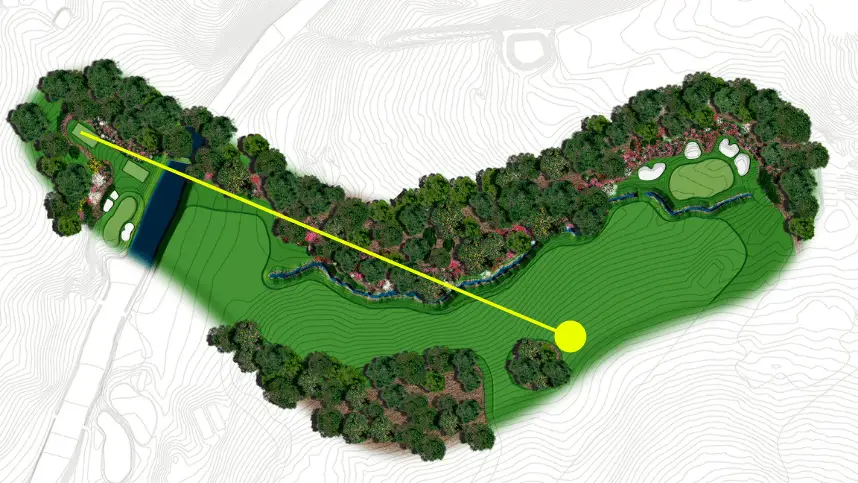 One of the most famous holes at Augusta, Bryson has already commented that he's going to intentionally aim for the 14th fairway, which would leave him just a short iron (PW or 9-iron) into this par 5.
Hole 14 – Chinese Fir (Par 4 – 440 yards)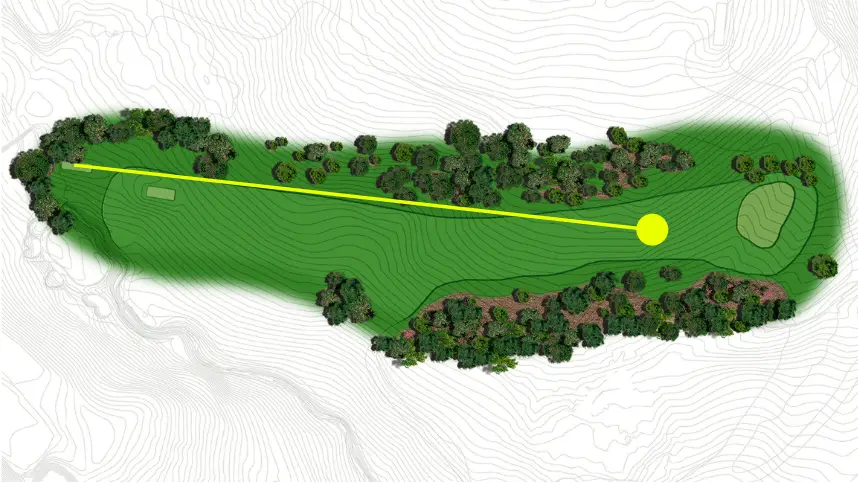 Another hole where I believe Bryson will give it a go with his driver on all 4 rounds. It sets up nicely for his shot shape and will leave him just a light sand wedge into the green.
Hole 15 – Firethorn (Par 5 – 530 yards)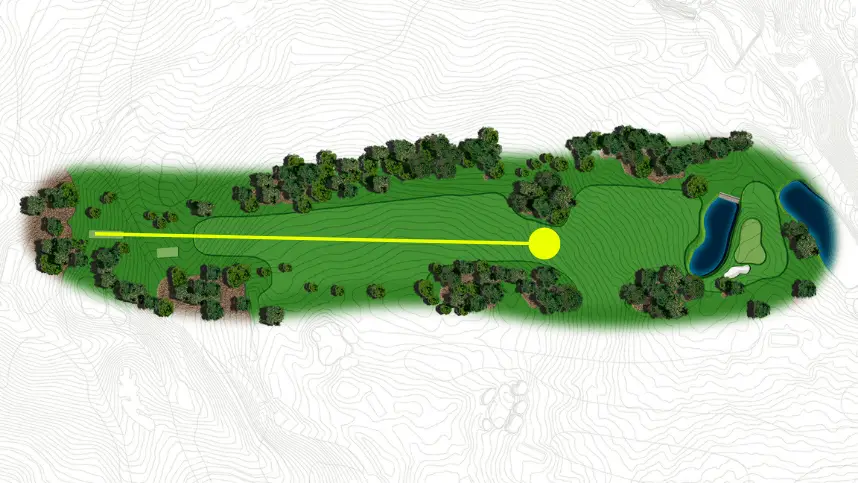 Driver here for Bryson could spell trouble unless he really cranks one and is able to get it past the trees. His driving distance is pretty much spot on where the fairway narrows considerably. I'm not sure what he'll do here but as a fan I hope he tries to get it through the gap!
Hole 17 – Nandina (Par 4 – 440 yards)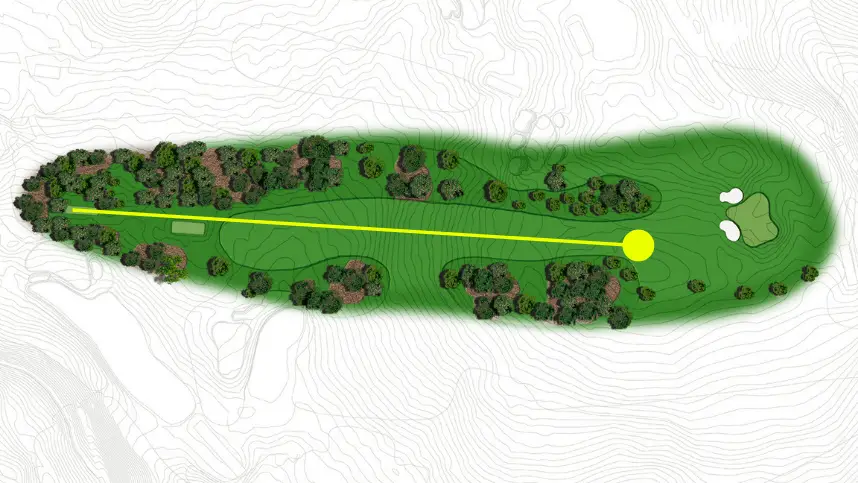 It looks like Bryson will be able to clear all the tight trouble on hole 17 as well. His targeted landing zone is right where the trees start to fade and the fairway opens up. If he really steps into one he should be in the clear here.
Hole 18 – Holly (Par 4 – 465 yards)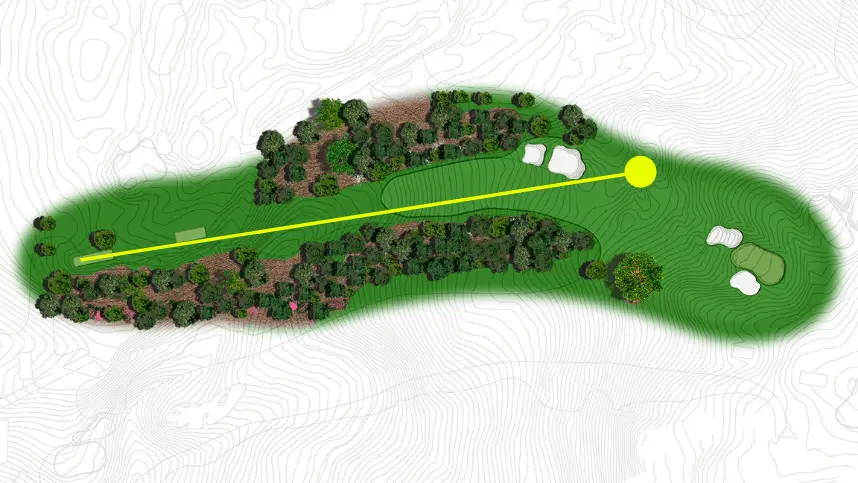 This is a great finishing hole for Bryson, he'll be able to take it straight over the fairway bunkers and play it from the rough in behind. This could be a bit risky if he ends up with a bad lie, but he'd only have about 100 yards in so not a very difficult shot all things considered.
What are your thoughts?
Do you think Bryson is going to break Augusta? Or do you think the course will bite back and punish his aggressive play?
All I know is that I'll be getting the popcorn ready either way!