Playing golf in cold weather requires much different game preparation than in ideal golf conditions. The colder air not only has an impact on body temperature, but also your ball flight, your grip, and many other areas of your game.
With the right prep and equipment, you can ensure you're giving yourself the best chance at shooting a good score in any weather condition.
The best ways to prep for golfing in winter conditions include: buying the right gear, wearing the right clothes, and having the right attitude. If you aren't enjoying yourself out there and are out of your comfort zone, your game will surely follow.
Use this guide to ready yourself for cooler temperatures on the golf course.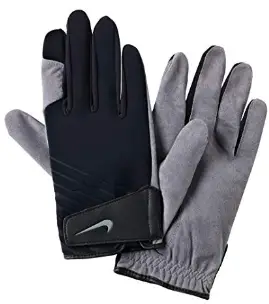 Buy some winter golf gear
There are many equipment changes you can make when the weather is cold. Upgrade your golf glove to an insulated glove to keep your hands warm. Use base layers and covering layers such as rain coats and rain pants to ensure your body stays warm and loose.
To keep your head and neck warm, invest in a nice winter hat and a neckwarmer.
For keeping your feet warm, wool socks are your best option. Wool is a heavier fabric than cotton and will hold in more heat while still allowing your feet to breathe.
Avoid mesh shoes that can allow dew and frost to get in your shoe and make your feet wet and cold. Get yourself a pair of weatherproof shoes to keep yourself in ultimate comfort on the course.
Not sure what to gear to buy specifically? Check out this post to see the best cold weather golf gear options.
Prepare yourself for the worst
This is the next step you need to consider when planning on playing golf in winter conditions. You need to understand exactly what elements you're going to be facing on course.
Will it be windy?
Does the weather forecast call for snow or rain?
Exactly how cold will it be?
Will there be frost delays on the golf course?
The last question there is a big one. I suggest calling the pro shop well before your tee time to see if there are any frost delays. It's not uncommon to see all tee times pushed back by over 2 hours due to frost on the greens.
Spend more time on the range
There aren't many worse feelings than a stiff golf swing. I highly recommend spending a good 20-30 minutes on the driving range when playing in winter weather.
Not only will this get you loosened up and keep you warmer, it will allow you to adjust to the outside conditions.
I know firsthand how brutal it is to jump out of a warm car and head straight to the first tee box expecting brilliance. But it doesn't work that way! So spend the extra time, warm up your body on the range, and have a more enjoyable round of golf.
Keep your golf balls warm
Anytime your golf ball is not in play, make sure you keep it warm in your pocket. This will help to improve compression on the ball off the tee and get you some much needed extra distance off the tee.
When hitting into cold air, your ball will slow much more rapidly due to the friction the denser air puts on the ball. Keeping your ball warmer will allow for faster ball speed off the face of your club and carry further into the fairway.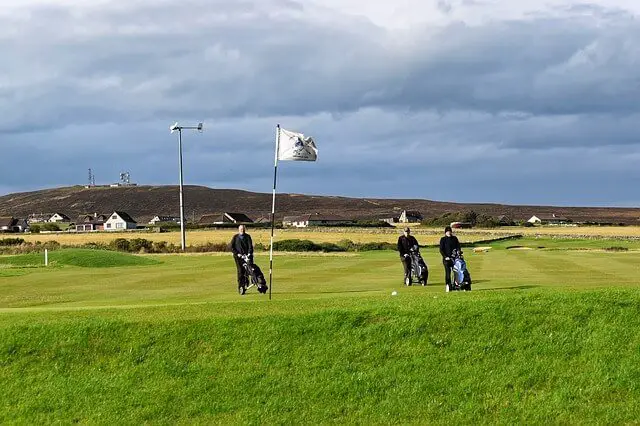 Walk the golf course instead of riding
One of the best ways to stay warm on the golf course is to walk the course and carry or push your clubs in a cart. By keeping your body moving you will feel much warmer than if you were sitting still in a golf cart.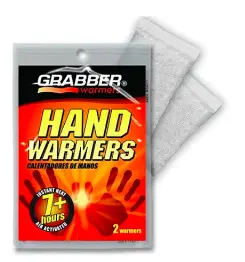 Keep your hands and body warm
When your body gets cold, your muscles tense up and you start to lose feel in your hands and feet. Loose muscles and feel through your hands is crucial to your golf swing. Prep for the cold by dressing appropriately for the weather and look into adding some hand and feet warming packs to your golf bag.
Keep your hands and feet dry
When your hands get wet, they will start to slip on your golf grips and can lead to bad shots. Prevent this by always keeping and umbrella in your bag as well as appropriate rain gear.
Similarly, wet feet will cause you to lose comfort and that feeling can translate through your golf swing. Do yourself a favor and prep your feet for cold and wet conditions with better socks and golf shoes.
Place an extra towel in your golf bag
Extra towels are great for keeping everything dry, such as your clubs, shafts or even the cart seat. An extra towel can be a lifesaver when there's heavy rain in the forecast.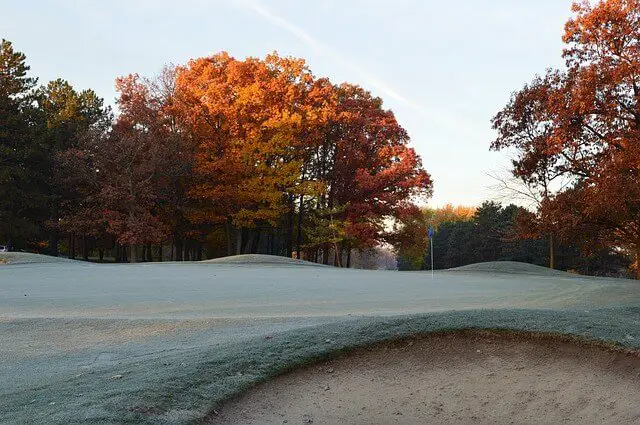 Use more club
This goes for off the tee and on the fairway. The colder air will make it more difficult to hit your clubs the same distance you're used to. Club up and give yourself a better chance at making birdie or saving your par.
Play less break on the green
When there's frost lifting on the greens, they can get very damp. And as such, the ball won't follow the break nearly as hard. The ball will tend to hold it's line more as well as slow down
Enjoy a hot drink
I always recommend bringing a thermos of hot coffee or tea when playing in cooler temps. It helps keep your body warm from the inside out and makes for a more enjoyable experience.
Keep swinging while waiting on other players
When it's other people's turn to play, make sure you keep your body moving.
I recommend grabbing the club that's giving you the most grief and just making practice swings in the distance while others are playing.
Have fun out there while it's still open!
Remember, winter is just around the corner and courses could be closing at any moment!
By following the above 9 steps, you'll be sure to have a more enjoyable round of golf, even if the temperature isn't! I wish you the best on your cold weather golf adventures and hope you've found value in these tips.
Have a tip for cold weather golf you'd like to share? Feel free to leave a comment!