In the below post I'll be answering some of the most frequently asked questions when making the change to senior flex golf clubs as well as showing some of the best options for golf clubs for senior golfers.
Golf really has no age limits, as long as you're able bodied, you can have an enjoyable time on the golf course.
What are the best iron sets for senior golfers? I've ranked below the top 3 iron sets that all offer senior or light flex options. I've also included two putters that are recommended for game improvement.
As for drivers, I've recommended three clubs that offer the most forgiveness off the tee without sacrificing distance.
Click here to go straight to my recommendations.
What makes certain clubs better for seniors?
There are a few factors that make certain clubs ideal for senior golfers. Typically you'll see the following features:
Increased club head size
Decreased loft (on irons)
More offset
Increased bounce
More flexible shaft
You may have noticed that age isn't in this list. That's because "seniors clubs" are wrongly named. They have nothing to do with your age and everything to do with your swing speed and ability to make contact with your ball.
In most cases, the best irons for senior golfers have increase club face size so there is more area of the face in the striking zone. In addition, they usually have lower lofts when compared to the same club in pro spec. For example, the loft of a 5 iron for pros is around 23.5° or higher while the loft on a game improvement 5 iron is closer to 22° or even lower in some cases.
Another major difference is the offset on the clubface. Offset on a golf club is the length the club face is behind the shaft. The below image shows the difference between an iron with lots of offset compared to an iron with minimal offset.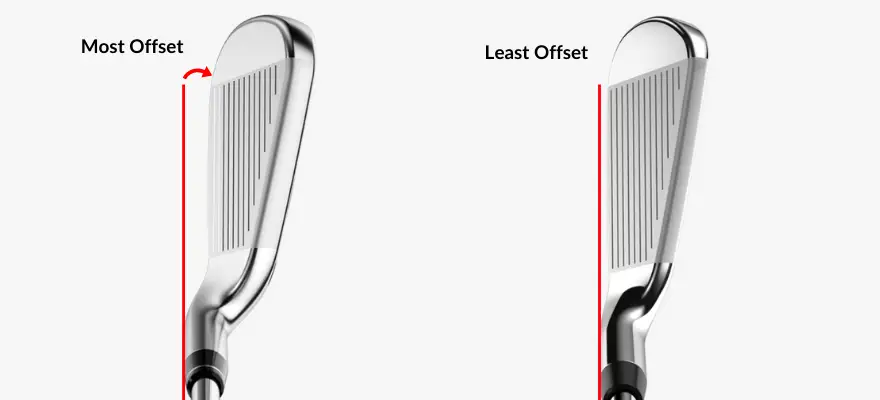 The reason for this is that by increasing the amount of offset, the more time there is in the golf swing to close the clubface through impact. This, combined with a lower swing speed, leads to straighter shots.
Another key difference between most golf clubs and seniors sets is the flex of the shaft. If you have a slower swing speed, adding more flex to your shaft will allow the clubhead to gain more slack in the downswing and allow the clubface to trail your hands for longer. This results in increased distance with minimal effort.
Reasons why you may want to look into senior flex clubs
You can swing more freely which means less strain on your back and body.
You don't have to feel like you need to "crush" your shots, you can swing very casually to get the same distance.
Your swing speed is below 85 MPH with your driver.
You're hitting push draws or just straight pushes.
When not to switch to seniors clubs
You have an average or above average swing speed (85+ MPH).
You are not having issues with distance compared to your peers (high swing speeds with senior flex won't get you more distance).
You hit your driver over 200 yards.
Best Iron Sets for Seniors
#1 – Callaway Big Bertha B21 Iron Set
First Big Bertha designed by AI
High ball speeds off the flash face
Low center of gravity for high launch angles
Low vibration

#2 – Callaway Mavrik Max Iron Set
Industry leading ball speeds
Soft feel and low vibration
Maximum launch and forgiveness
Large body and low CG

#3 – Taylormade SIM Max OS Iron Set
Explosive distance and forgiveness
Large face area increases stability
Low center of gravity
Damping system reduces vibration on impact

Best Putters for Seniors
#1 – Odyssey Triple Track Putter
Extremely well balanced
Lightweight construction

#2 – Ping Sigma 2 Extendable Putter
Extendable length putter
Soft feel through impact
Ball pickup works well
Comfortable standard grip

Best Drivers for Seniors
#1 – Cobra F-Max Offset Driver
Very lightweight and easy to swing
Thin forged titanium face enhances ball speed
Promotes higher launch and straighter ball flights
Option for offset face (drastically reduce slices)

#2 – Cleveland Golf Launcher HB Driver
Large impact area
Lightweight and balanced feel
Low center of gravity gives a high trajectory

#3 – TaylorMade SIM MAX-D Driver
Twist face technology corrects common mis-hits
Fully adjustable
Large clubface
Speed injected!

Conclusion
Whether you're already an experienced golfer who is looking to swing easier, or are completely new to golf, all of the options above will be sure to improve your golf game. You should now be more informed on the best options for seniors when it comes to golf equipment and the reasons behind them.