A Guide to Choosing the Best Equipment for Senior Golfers
Golf is a popular pastime for people of all ages, but as we get older, it's important to make sure we have the right equipment to support our changing needs and abilities.
Choosing the best golf clubs for seniors can make a big difference in our enjoyment of the game and our performance on the course.
In this in-depth article, I'll be answering some of the most frequently asked questions when making the change to senior flex golf clubs as well as showing some of the best options for golf clubs for senior golfers.
Golf really has no age limits, as long as you're able-bodied, you can have an enjoyable time on the golf course.
What are the best iron sets for senior golfers? I've ranked below the top 3 iron sets that all offer senior or light flex options. I've also included two putters that are recommended for game improvement.
As for drivers, I've recommended three clubs that offer the most forgiveness off the tee without sacrificing distance.
The importance of choosing the right golf clubs as a senior golfer
As we get older, our bodies start to give out in many ways and can affect our swing and our ability to hit the ball with decent power and accuracy. Our knees start to give out, our backs take a beating, and each day it gets harder and harder to play and finish 18 holes.
However, choosing the right golf clubs can help us compensate for these changes and help us to continue to play the game we love at a high level.
Factors to consider when shopping for golf clubs
There are a few key factors to consider when shopping for golf clubs as a senior.
The weight of the club: Seniors may find it easier to swing lighter clubs, which can help to increase speed and distance.
The flex of the shaft: A shaft with more flex can help to generate more power and forgiveness on off-center hits.
The loft of the club: Higher lofted clubs can help to get the ball in the air more easily, leading to longer shots and easier approaches to the green.
What makes certain clubs better for seniors?
There are a few factors that make certain clubs ideal for senior golfers. Typically you'll see the following features:
Increased club head size
Decreased loft (on irons)
More offset
Increased bounce
More flexible shaft
You may have noticed that age isn't on this list. That's because "seniors clubs" are wrongly named. They have nothing to do with your age and everything to do with your swing speed and ability to make contact with your ball.
In most cases, the best irons for senior golfers have increased club face size so there is more area of the face in the striking zone. In addition, they usually have lower lofts when compared to the same club in pro spec. For example, the loft of a 5 iron for pros is around 23.5° or higher while the loft on a game improvement 5 iron is closer to 22° or even lower in some cases.
Another major difference is the offset on the clubface. Offset on a golf club is the length of the club face behind the shaft. The below image shows the difference between an iron with lots of offset compared to an iron with minimal offset.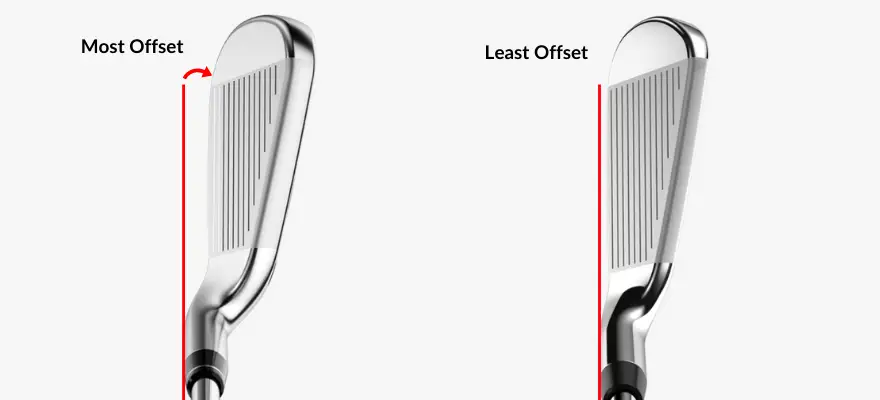 The reason for this is that increasing the amount of offset, the more time there is in the golf swing to close the clubface through impact. This, combined with a lower swing speed, leads to straighter shots.
Another key difference between most golf clubs and seniors sets is the flex of the shaft. If you have a slower swing speed, adding more flex to your shaft will allow the clubhead to gain more slack in the downswing and allow the clubface to trail your hands for longer. This results in increased yardage with minimal effort.
Reasons to use senior flex clubs:
You can swing more freely which means less strain on your back and body.
You don't have to feel like you need to "crush" your shots, you can swing very casually to get the same distance.
Your swing speed is below 85 MPH with your driver.
You're hitting push draws or just straight pushes.
Signs that senior-flex clubs aren't right for you:
You have an average or above-average swing speed (85-90+ MPH).
You are not having issues with distance compared to your peers (high swing speeds with senior flex won't get you more distance).
You already hit your driver 200+ yards.
Best Iron Sets for Seniors
#1: Callaway Big Bertha B21 Combo Iron Set
Score: 9.6 ⭐⭐⭐⭐⭐⭐⭐⭐⭐⭐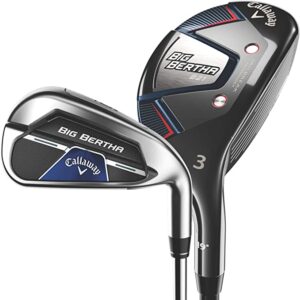 Pros:
I really like the A.I.-designed Flash Face Cup in Big Bertha B-21 (first big bertha iron designed by AI)
The unique face architecture in each club generates high ball speeds and increased spin robustness.
More confidence over the ball with the wider soles and added offset
The custom tungsten weighting deepens CG with precision while maintaining ball speed
The urethane microspheres absorb unwanted vibration for exceptional feel while maintaining fast ball speeds.
Cons:
The black paint version of this set is prone to chipping and scuffing (just the paint, no impact on performance).
Price
#2: Callaway Golf Rogue ST Max OS Iron Set
Score: 9.2 ⭐⭐⭐⭐⭐⭐⭐⭐⭐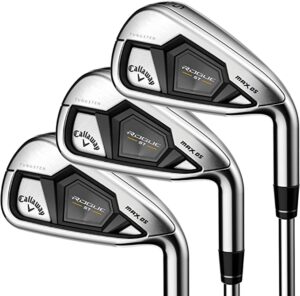 Pros:
Fastest irons ever from Callaway
Built with wide soles, enhanced offset, and thicker topline for confidence, high launch, and forgiveness
Combines high strength 450 steel with A.I.-designed Flash Face Cup for more ball speed and consistency
A.I. Face Optimization for spin rate consistency and high launch/COR
Precision tungsten weighting for improved launch conditions and maximum speed across the face
Patented urethane microspheres for enhanced sound and pure feel while maintaining fast ball speeds.
Cons:
Lower ball-flight than some other comparable sets
While these clubs are designed for consistency with the large offset, they are not game-improvement clubs
#3: TaylorMade SiM 2 Max OS Iron Set
Score: 9.0 ⭐⭐⭐⭐⭐⭐⭐⭐⭐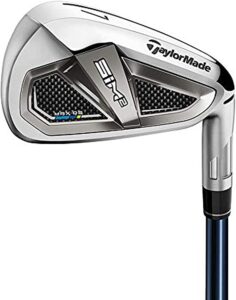 Pros:
The Cap Back Design is very effective in maximizing distance, forgiveness, and feel with an extremely low CG
The faster and more forgiving face gives a lot of performance where it's needed
The Oversized Head Shape makes it very forgiving and each head has been designed with a progressive face height, wider sole and stronger lofts making it easy to launch and get more distance.
The new ECHO Damping System gives a forged iron like feel, it's soft polymer blend and multiple contact points across the face channel away harsh vibrations.
Cons:
Senior flex shaft can be prone to breaking on really bad mis-hits
Best Putters for Seniors
#1: Odyssey Stroke Lab Triple Track Putter
Score: 9.4 ⭐⭐⭐⭐⭐⭐⭐⭐⭐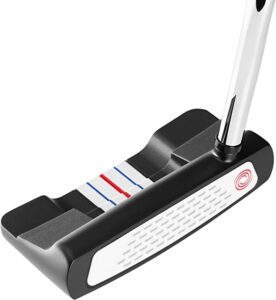 Triple Track lines prominently featured help improve putting accuracy.
Innovative multi-material shaft saves 40 grams of weight and rebalances the putter for improved tempo and consistency in the stroke.
Provides firmer feel and enhanced sound at impact while maintaining the same roll benefits of popular White Hot Microhinge Insert.
Extremely well-balanced; lightweight construction
#2: S7K Standing Putter
Score: 8.6 ⭐⭐⭐⭐⭐⭐⭐⭐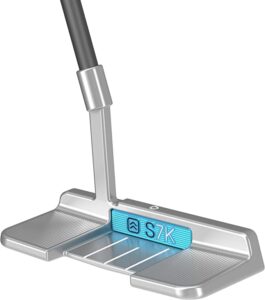 Pros:
S7K putter helps to stop missing putts from 10 feet and in and drain more putts for birdie and par
The S7K eliminates the need for guesswork while lining up shots, allowing the user to trust their line every time
The S7K is easy to use and requires no practice, it can save 5 strokes or more the very first time it's used
The S7K's ultra-light grip and shaft transfer feedback to the hands, enhancing speed and distance control, and providing a buttery feel and sweet sound at impact.
Cons:
Prone to rusting when not stored or cleaned properly
#3: Titleist Scotty Cameron Special Select Putter
Score: 8.6 ⭐⭐⭐⭐⭐⭐⭐⭐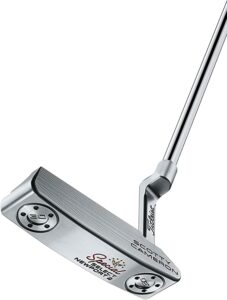 Pros:
Titleist Scotty Cameron putters are known for their high precision and exceptional craftsmanship.
The putters have a soft feel, giving a great feedback and control over the shots.
They have a classic look that appeals to many golfers.
They are highly customizable, allowing golfers to adjust the weight and balance to their preference.
Cons:
Price, as this is a top-of-the-line putter
Best Drivers for Seniors
#1: Callaway Big Bertha B21 Driver
Score: 9.2 ⭐⭐⭐⭐⭐⭐⭐⭐⭐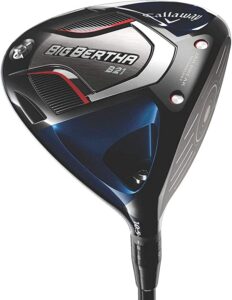 Pros:
Very lightweight and easy to swing
Thin forged titanium face enhances ball speed
Promotes higher launch and straighter ball flights
Option for offset face (drastically reduce slices)
Cons:
Bias towards a draw shot may not be suitable for all players, especially those with a natural draw ball-flight
#2: Cleveland Golf Launcher XL Driver
Score: 9.2 ⭐⭐⭐⭐⭐⭐⭐⭐⭐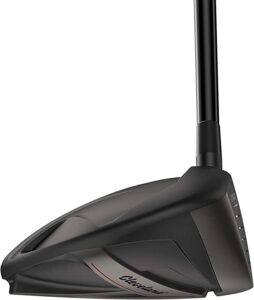 Pros:
This club pairs well with slow swing speeds and softer golf balls for added distance
Lightweight and balanced feel
Low center of gravity gives a straight and high trajectory
Cons:
The sound this club makes is not liked by everyone
The club sits closed at address, which may not be suitable for all golfers
#3: TaylorMade SiM Max Draw Driver
Score: 9.2 ⭐⭐⭐⭐⭐⭐⭐⭐⭐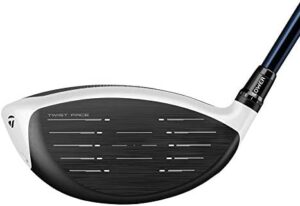 Pros:
Helps with miss-hits, particularly hooks and slices
Twist face technology improves mid-hit performance
Increases distance and ball speed
Well worth the price
Best driver compared to other brands tried.
Good for older golfers who have lost yards on their drives in recent years.
Cons:
The shaft feels heavy to some compared to the very lightweight driver head
Lightweight design can be prone to cracking, treat it with care
Best Complete Golf Club Sets for Seniors
#1: WILSON Men's Profile SGI Complete Golf Club Package Set
Best Budget Full Golf Club Set for Seniors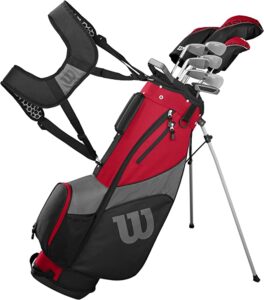 Pros:
The Large 460cc driver is very forgiving and easy to hit
The irons have a low center of gravity which makes them very accurate
The carry bag is lightweight and has many pockets for storage
The sand wedge is easy to launch and has a wide sole for better greenside control
Cons:
The driver shaft is an inch shorter than the standard men's driver shaft length.
The club heads had cosmetic defects out of the box.
#2: Taylormade RBZ Speedlite Complete 13-Piece Set
Best overall full golf club set for seniors

Pros:
The driver has a lightweight and aerodynamic design that allows for faster swing speeds and improved forgiveness
The fairway and rescue clubs have a low center of gravity and a speed pocket design that helps with high launching shots
The irons have advanced perimeter weighting and a multi-function sole geometry that provides added playability and smooth turf interaction
The wedge has high-volume grooves for improved spin and control, and a C-grind sole that is versatile for different conditions
The putter has a high-stability mallet design and multi-alignment technology for easy aiming
Cons:
Not the best value for money, a bit over-priced
Senior flex shafts can be prone to breaking if swung too hard on tough turf or deep rough
#3: Cobra Golf Airspeed F-MAX Complete Set
Best Game-Improvement Full Golf Club Set for Seniors

Pros:
The offset driver provides a great combination of speed and forgiveness
The carbon crown on the fairway woods and hybrids enhances distance and accuracy
The low profile irons with greater lofts and perimeter weighting make for high and straight shots, resulting in more GIR's and birdie opportunities
The blade putter has a machined face for exceptional feel and control on long and short putts.
Cons:
Senior flex shaft prone to snapping when hitting down aggressively on the ball
Other Considerations for Golf Clubs for Seniors
In addition to the weight, shaft flex, and loft of the club, there are a few other factors to consider when shopping for golf clubs as a senior.
Adjustable weight and loft options:
Some golf clubs come with adjustable weight and loft options, which can allow you to fine-tune the club to better suit your swing and playing style. This can be especially useful for seniors who may have different needs than younger golfers.
Shaft options for seniors:
The shaft of the club is an important factor in determining the overall feel and performance of the club. Seniors may want to consider a shaft with more flex, as this can help to generate more power and forgiveness on off-center hits.
Hybrid clubs for seniors:
Hybrid clubs, which combine elements of both irons and woods, can be a great option for seniors. These clubs are often easier to hit than traditional long irons and can be a useful tool for getting out of difficult lies or tackling longer approach shots.
Wedges and putters for seniors:
Wedges and putters can also be important considerations for seniors. For wedges, look for clubs with higher lofts, as these can help to get the ball in the air more easily. For putters, consider options with larger, softer grips, as these can be easier on the hands and help to reduce tension in the wrists and forearms.
Final Thoughts: Best Senior's Golf Clubs
As a senior golfer there are a few things you should keep in mind when choosing new golf clubs. First, you'll want to make sure the clubs are comfortable to hold and easy to swing. Eg – Clubs with larger grips or more flexible shafts (senior flex). Also look for clubs that offer a bit more forgiveness; which can be especially helpful when you have less control in your swing. Last, you'll want to consider your playing style and skill level. If you're a bit of a hacker, you might want to go for clubs that are more forgiving, while if you're a bit more experienced, you can go for clubs that offer a bit more control.
When it comes to specific types of clubs, drivers are a great place to start. Look for ones with a larger sweet spot and that offer more forgiveness. Fairway woods and hybrids can also be great options, especially if you're finding it harder to hit your long irons. When it comes to irons, look for ones with a lower profile and larger sweet spot. This will help you get the ball up in the air more easily and with more distance. Finally, putters are a great choice for seniors as they offer a bit more stability and control.
Overall, when it comes to buying golf clubs as a senior, it's all about finding the right balance between comfort, forgiveness and performance. Take the time to try out a few different options, and don't be afraid to ask for advice from more experienced golfers. With the right set of clubs, you'll be able to keep enjoying this great game well into your golden years.
Summary for finding the right golf clubs for seniors:
Try out a variety of clubs: Don't be afraid to try out different clubs and see what works best for you. This may involve trying out clubs from different manufacturers or experimenting with different shaft flexes and lofts.
Consider adjustable weight and loft options: If you have the opportunity to try out clubs with adjustable weight and loft options, take advantage of them. These options can allow you to fine-tune the club to better suit your swing and playing style.
Consult with a professional: If you're having trouble finding the right clubs, consider consulting with a professional club fitter or golf instructor. They can help you to identify the clubs that will best suit your needs and help you to achieve your goals on the course.