Golf Betting Tips for 2020 based on stats from the PGA Tour.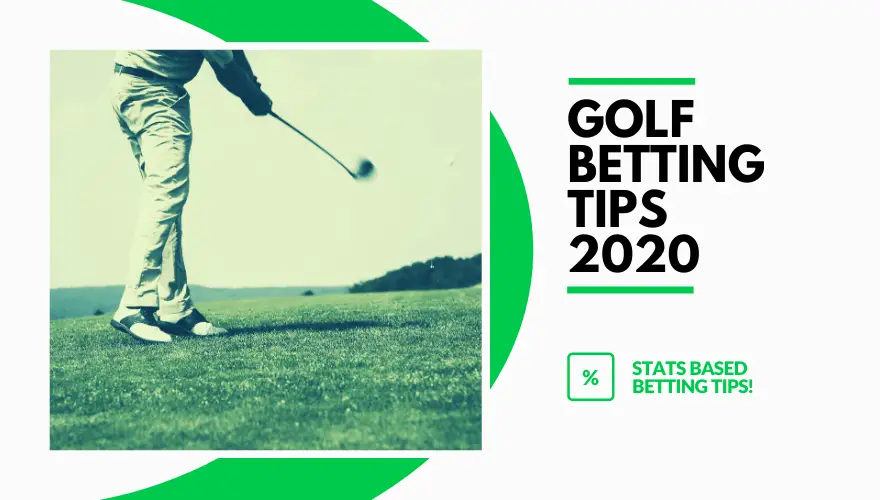 Disclaimer: It is important to remember that there are no certainties in gambling and the information contained on this website is for general information purposes only.
Golf is back, and I love it!
Nothing gets me more fired up for my own rounds than watching the pros do their thing on the weekends.
I've played in countless golf pools over the years and have had some decent winnings by sticking to stats rather than following my heart when it comes to betting on golf tournaments.
These are some of the steps I take to make more informed decisions when playing in betting pools.
Some initial factors to consider
Who's playing well right now?
What style of course is it?
What PGA Tour stats compliment the course conditions?
Every player has their own pros and cons, and playing to what the course requires helps you to weed out the players that are more likely to perform.
By going through this initial process we can start to get down to a targeted list.
Stick to golfers who have played well recently
Take a look at the average finishes and scoring averages over the past few tournaments. Momentum definitely exists in golf, when you're feeling good and hitting it well, you can produce some amazing results. Just ask Jordan Spieth!
First, let's look at Top 10 finishes for the season so far: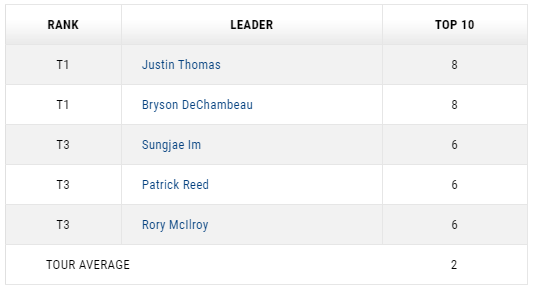 These players are definitely playing well, and it can be further supported when looking at their respective scoring averages.
Justin Thomas – 69.158
Bryson DeChambeau – 68.956
Sungjae Im – 70.011
Patrick Reed – 69.756
Rory McIlroy – 68.899
Those are some consistent scoring averages for the year, and are among the best in the league.
In this case I'm already looking to make cuts from my betting list. Sungjae for example, although a consistent top 10 finisher, is outside the top 10 in scoring average. In fact, there are 10 players with lower scoring averages than him this year. So that's something to consider when placing any bets on golf.
Look for players who are playing well, but have not won yet
Take a look at the top 10 finishes list on the PGA Tour Stats website and look for blanks in the 1st position. These are your break-through players that are primed to get a win soon.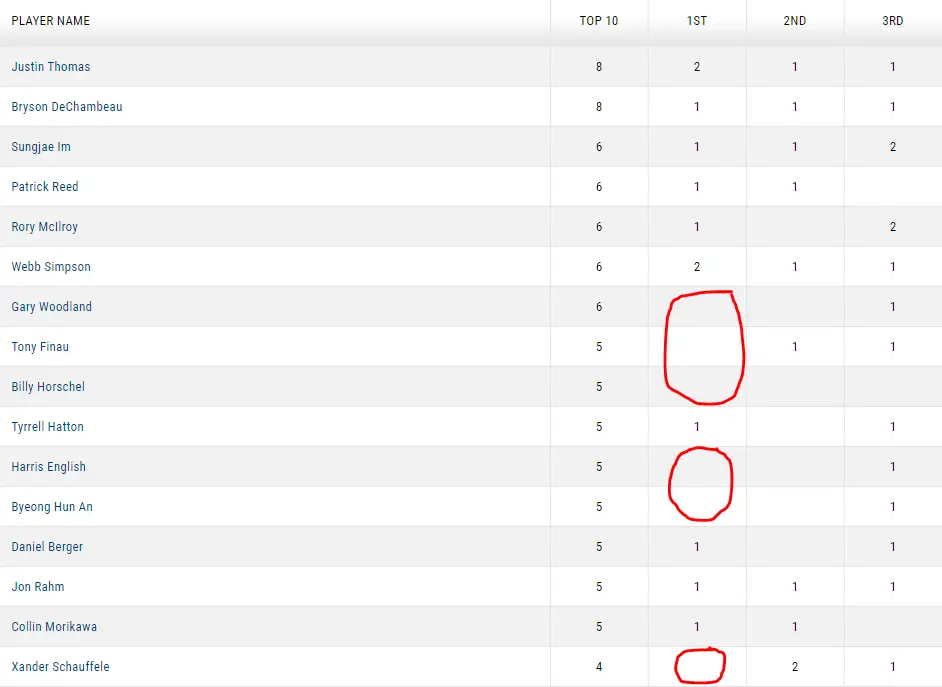 In this case, some of the players I'd be adding to my list are:
Gary Woodland
Tony Finau
Billy Horschel
Harris English
Byeong Hun An
Xander Schauffele
One name that really jumps out to me is Tony Finau from this list, he has been playing some absolutely great golf lately. Not only that, he is finishing well. Out of 5 top 10's already this year, he's been the runner up once and 3rd place once as well.
Another one is Xander Schauffele, 3 out of his 4 top 10 finishes this year have been in the top 3! That's a great stat to consider when making your bets.
Eliminate 'big name' golfers that aren't playing well right now
I'm talking about the Phil's, the Tiger's the DJ's and the Jon Rahm's of the golf world.
And while I'm a huge fan of all of these players, if they aren't playing well, they aren't coming close to my betting pool.
There's so much media focus on some of the big name players that their odds really make no sense.
Phil Mickelson is one of my all time favorite golfers, but when I look at his scoring average this year (71.285 – 134th on tour this year), and then compare it to his odds to win this weekend, it just doesn't add up for me.
Another golfer that has struggled to deliver this year is Justin Rose. With a scoring average of 71.144, he's averaging almost 2.5 shots per round worse than Rory. On top of this, he hasn't made the cut in his last 3 events.
Bonus Tip – Never, ever count Tiger out!
I remember a few years back, before Tiger's comeback victory at East Lake, when I heard a very popular sportscaster say that Tiger Woods will never win another golf tournament again, let alone a major.
You cannot deny the talent that Tiger has. So in certain instances, betting on him to win is the bet to make. Masters repeat for 2021 anyone? 🤞
Understand the player stats the compliment the golf course
Some courses punish you off the fairways more than others, some have very difficult hazards to deal with, and some have crazy wind that can make shot shaping difficult.
Other courses are littered with deep fairway bunkers that force even the long hitters to think about club selection off the tee a bit more.
These are some further things to consider before placing any bets.
A great example of a course that will punish you big time by missing the fairway is Bethpage Black. The fairways are tight and the rough is very deep and thick which makes it very difficult to get on the green let alone close to the pin on an approach shot.
By understanding the conditions and the little nuances of the course, you can further make cuts to your betting list.
Check when your chosen players tee off
I can't find a stat for this, but based on plenty of observance over the years, I've noticed that those who tee off early on Thursday morning typically score better than those in the afternoon.
And yes, this is swapped for the Friday, but if you shot 70 in the afternoon when 64's were dropping in the morning, it can be a mental challenge to put up the same number on day 2.
So I do give a slight edge to those who tee off earlier in the day on Thursdays.
Reasons for this can include:
Lower temperatures leading to less sweating
Denser air making it easier to move and stop the ball
Softer conditions due to higher humidity and morning dew
Less wind typically, unless there's a front coming through