Single length golf clubs are gaining in popularity these days as Bryson Dechambeau keeps demonstrating dominance on the golf course.
Since he is the only player on tour currently with single length golf clubs, a lot of people are starting to take notice of this change to the game.
However, this isn't exactly a new idea. The story goes all the way back to Bobby Jones, who apparently used single length irons in 1930 to win the Grand Slam.
Bryson is actually quoted as saying it's the reason why he explored the idea in the first place, saying that he noticed the single length of his irons in a display case when he was young.
Why choose single length irons?
The purpose of single length clubs is to make the golf swing easier by keeping your swing on the same plane. When you use same length shaft for all irons, the concerns while addressing the ball are gone. It becomes easier to make consistent swings at the ball.
The main purpose of this is to increase repeatability – which we all know is hugely important when it comes to golf. Golf is a game of misses, so if you can manage your misses a bit better by using single length shafts, you're more likely to score well.
By trusting the loft of the clubface to do it's job, you no longer need to adjust your stance or swing to each club.
Are single length irons right for you?
Single length irons are a legit alternative that could drastically improve your scoring and handicap.
If you're the type of golfer who has a certain favorite club in your bag, a club that you just naturally hit better than others, you're likely a good candidate to test out single length golf clubs.
For example, let's say out of all your irons you tend to hit your 7i the crispest, the cleanest, the most pure. There's a good chance that by adapting all of your irons to that length, you'll be better positioned to get that same feeling from the rest of your irons.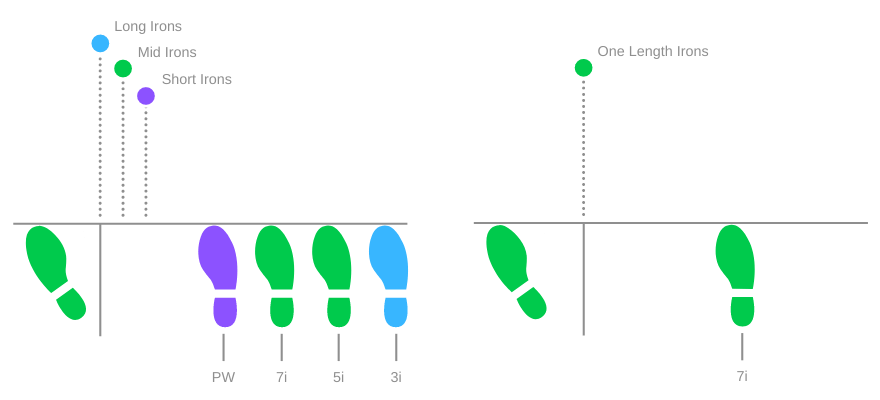 Making the change to this technique won't be easy, so remember not to get discouraged if it doesn't work for you straight away. The key to golf is repeatability, so just keep at it.
Who makes single length irons?
There are quite a few manufacturers that offer single length clubs, and more companies are getting on-board with the trend every single day.
Here are some of the options I've found:
Cobra Golf
Cobra Golf offers three different iron sets as single length. They are all based off of a traditional 7i in shaft length. Cobra offers the following iron sets as one length: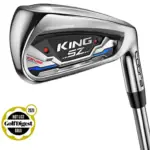 SPEEDZONE ONE LENGTH
The ONE Length counterpart of the SPEEDZONE irons are designed to 7-iron length (37.50″) through the set to promote one repeatable setup and swing between clubs for more consistency and accuracy.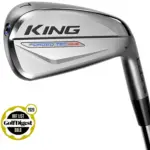 FORGED TEC ONE LENGTH
Engineered to deliver distance, consistency and playability in a compact muscle back shape preferred by better players.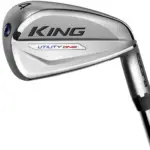 KING ONE LENGTH UTILITY CLUB
Classic looks blend with modern technology to deliver distance, consistency and forgiveness in a ONE Length configuration.
With one setup and one swing, you can simplify the entire golf swing and gain more confidence.
Click here to learn more about Cobra Golf ONE Length Irons
Where to buy?
All of Cobra's one length golf clubs are available at the following retailers:
Cobra Golf Official Website
Golf Galaxy
Carl's Golf Land
Global Golf
One Iron Golf
An interesting fact about One Iron Golf is that they have been making single length golf clubs for over 20 years. Similar to Cobra, they offer three different product lines that are available in one length. Each are made specifically for different skill levels as seen below.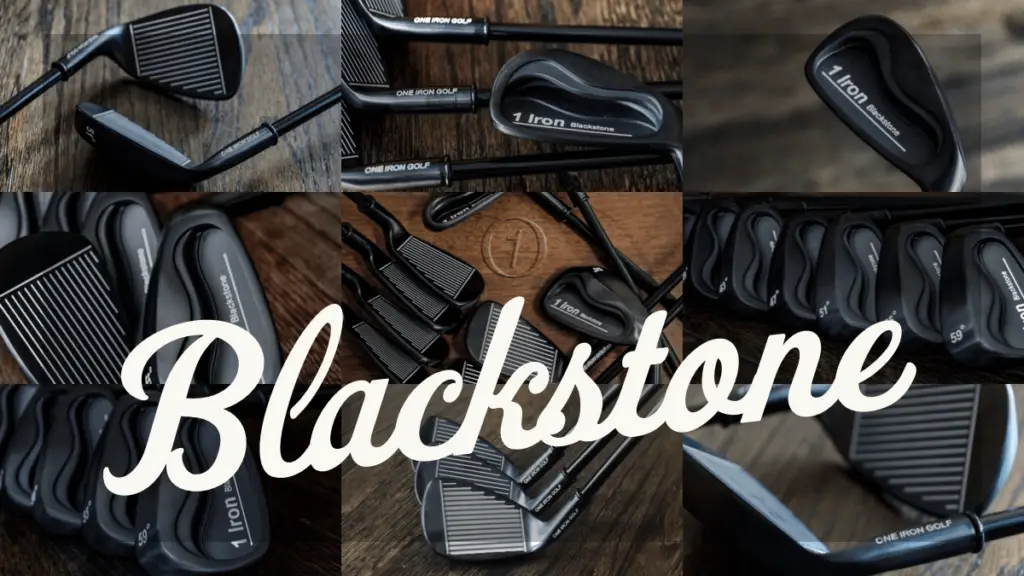 1 IRON
The original design that started it's journey all the way back in 1997. This iron set is designed for forgiveness and game improvement. The clubface is denser than standard clubs which leads to maximum ball compression.
PRO-LINE
The Pro-line series is designed for intermediate skill level golfers and looks to maximize distance and accuracy. The design incorporates features that professional golfers prefer such as lighter weight and stronger loft angles. This creates a more penetrating ball flight.
BLACKSTONE
The Blackstone line is the flagship or premier line of irons offered by 1 Iron Golf. This set is designed for professional play. If precision and distance control are what you are looking for, this is the set for you.
Click here to learn more about One Iron Golf
Where to buy?
You can buy single length irons at https://1irongolf.com/
Edel Golf
Edel Golf single length irons are engineered for consistency and confidence, making them ideal for all golfer skill levels.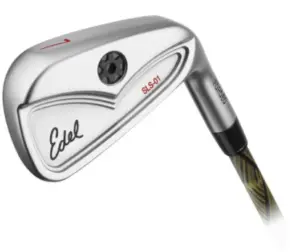 By mirroring the performance given from mid irons, they make long irons easier to hit and more forgiving. This creates a ball flight that launches higher with more spin and increased ball speed compared to traditional iron sets. The short irons create precise distance and target control accuracy; optimizing launch conditions and play-ability.
Click here to learn more about Edel Golf Single Length Irons
Where to buy?
Edel Golf irons are available for sale at the following retailers:
Sterling Irons
Get ready for the consistently lowest scores of your life! Sterling Irons says that their single length irons remove as many as 90 variables from your golf game. By having one 'master swing' you'll be able to play more consistently and score better.
"Trajectory control with the longer irons felt easier than ever" "You won't believe the amount of stress it relieves to go through a round of golf"

GolfWRX.com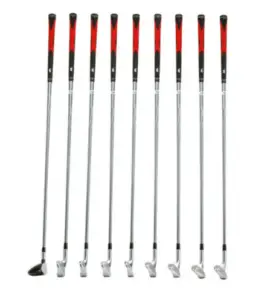 Sterling offers a 90-day money back guarantee as well as a 2-year performance warranty on it's single length irons. Some of the benefits you'll see from using their single length clubs are:
Improve consistency
Increase distance & control
Become more accurate
Where to buy?
Single length irons by Sterling Irons are available for sale directly on their website:
Click here to learn more or purchase Sterling Single Length Irons