Does finding the perfect gift for your favorite golfer feel like an impossible task? Golfers can be notoriously hard to shop for – Most have very specific tastes and preferences when it comes to clubs, shoes and clothing. Exciting tech gifts are always a good choice, everyone loves a new gadget to play with! Check out our top gift picks for the techie golfer in your life.
As an avid golfer myself, I can attest that all of these gift ideas are practical, useful and desperately needed by every golfer out there.
Most golf gift ideas are useless junk that no real golfer would ever use. They are gimmicky and are intended for a different audience entirely. Golfers like gifts they can actually use on course or for preparation before a round.
Above all else, golfers love to golf! So stay away from the gimmick gifts (like a golf glove that says nice shot on the middle finger), and stick to what's actually useful for a golfer.
What makes a good golf gift?
There are tons of products and services that are good for golfers. The best golf gifts are the ones that are the most useful to the golfer. It may be equipment that they need replenished like golf balls, tees or gloves. Or, it may be an item that they would like but is outside of their usual budget like range finders or launch monitors.
Another great option is to personalize their golf equipment. You can get golf balls, tees, gloves, etc. done up with custom slogans or nicknames.
Best places to buy golf gifts
These are some of the more popular retailers of golf equipment and gifts for golfers:
Carls Golf Land
Golf Town (Canada)
Golf Galaxy
PGA Tour Superstore
Best Gifts for Golfers
GPS Launch Monitor
Rangefinder
New Grips
Golf Balls
Golf Gloves
Comfy Golf Shoes
Practice & Training Gear
Equipment Organizer
My Golf Locker Membership
Accros Caddie Golf Sensors
18 Birdies App (Premium Subscription)
Me and My Golf Training (Membership)
GOLFPASS Membership
GOLF TV Subscription
In-Home Golf Simulator
Golf Smart Watch
Membership to a local simulator league
Portable Charger
Wireless Headphones
Bluetooth Speaker
A Flask
YETI Travel Mug
Personalized Ball Marker
Divot Tool
GPS Launch Monitor
Launch monitors are a hot topic these days and they cost of them is dropping every year. Maybe this year you gift your golf friend a launch monitor so they can improve their game.
The Garmin Approach G80 is a top of the line golf GPS with an integrated launch monitor. Unlock the secrets of your game with data that includes club head speed, ball speed, smash factor, swing tempo and estimated distance. Loaded with over 41,000 courses all over the world, any golfer would be thrilled to receive this unit as a gift. 
Rangefinder
While launch monitors are great for dialing in your yardages on the range, a rangefinder will help you dial in on the course. Rangefinders in 2021 are something special, the accuracy is within fractions of a yard and can even adjust for elevation.
Here are some of the best options for rangefinders in 2021:
New Grips
Grips are an easily forgotten item that serious golfers should be replacing on a regular basis. If you play anywhere near 40 rounds or more per year, I would highly recommend making new golf grips part of your annual prep routine. My favorite grips are Winn's Dri-Tac oversized grips. They are super soft and very comfortable in your hands. No lie, I've gained 10+ yards of carry on every club since swapping to these.
Golf Balls
Golfers lose golf balls. This is a fact of life! If you don't know which ball the person you're gifting to plays, stick to these two rules:
1) Get what's popular (Titleist Pro-V1 & Taylormade TP5) or…
2) Get what's cool and new (Callaway Triple Track)
Golf Gloves
Similar to the golf grip story, golf gloves don't last forever and need to be replaced quite often. My recommendation when gifting golf gloves is to either go specialty, quality or quantity.
If they live in an area where there are distinct seasons, you may want to opt for a specialty item like winter gloves or rain gloves.
If conditions where they live are more stable weather wise, consider getting them a high quality leather glove that will last.
If they don't golf very much, maybe consider the quantity angle and get a 3-5 pack of average gloves.
Comfy Golf Shoes
If the golfer you're gifting for walks most of their rounds, their shoes may be a bit worse for wear. Consider gifting them some comfy new golf shoes! Some of the top brands to look at are FootJoy, Nike, Sketchers & PUMA.
Practice & Training Gear
Help your friend get their game into shape with some high quality practice gear such as:
Alignment sticks
Putting training mats
Wrist trainer
Chipping practice nets
Equipment Organizer
Make your golf equipment look like the shrine it should be in your garage or basement with proper organization. I'd recommend getting one with room for 1 or 2 golf bags (specifically if you have a walking and cart bag), as well as adequate shelving for outfits, shoes and equipment… like your own personal golf inventory system!
Clothing through My Golf Locker Membership
Fill out a brief survey about your style and favorite brands and price range and have experts pick outfits for you! This service includes items such as Golf shoes, golf clothes, rainwear, apparel, golf shirts, golf gloves and more from FootJoy, PUMA, Nike, Adidas, Under Armour, Ecco and others. Once you've receved your locker, take 14 days to decide and send back what you don't like.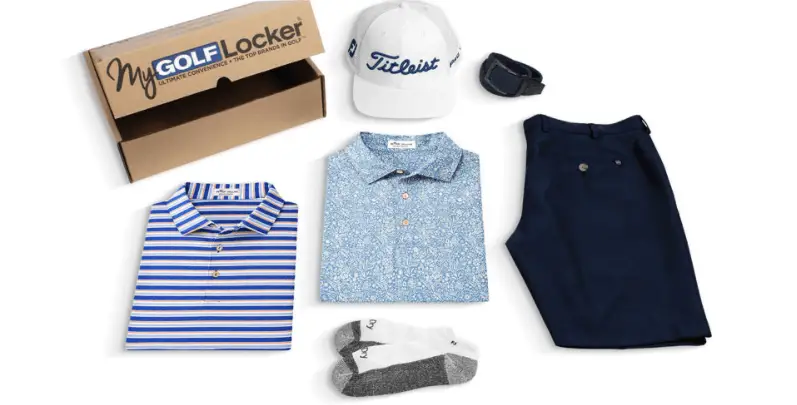 Accros Caddie Golf Sensors
These sensors attach to the end of your grip handle and can give you some really critical information while on the course. Some of the features mentioned on the Arccos website are:
AI-powered advice for every shot, on every hole
Learn precisely which club to use in every situation
Know your precise yardage to any point on the course calculated by golf's most powerful and accurate A.I. Powered GPS Rangefinder in the world.
Identify your actual strengths and weaknesses
The UK based company also claims that on average their user base reduces their handicap by about 4.2 strokes within the first year. Now that's some impressive tech!
Premium Subscriptions (18 birdies, me and my golf, golfpass, golftv)
There is a growing number of neat membership options becoming available, some of the best ones are:
18 Birdies App
#1 rated digital caddy, get distances with GPS, keep score, track shots and more!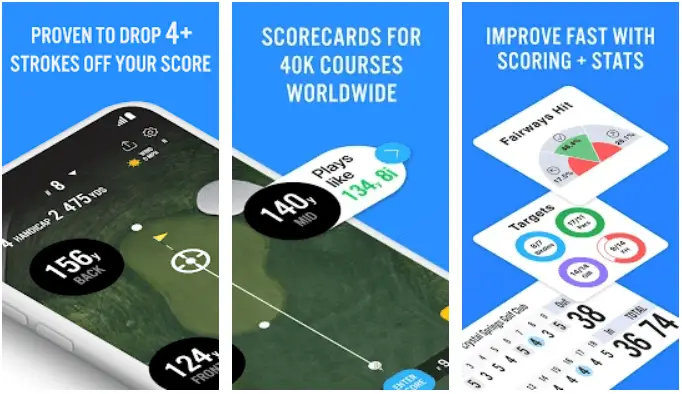 Me and My Golf Training
Run by PGA coaches Piers Ward and Andy Proudman, Me And My Golf is an all in one Golf Coach, Online Training Program and Responsive Golfing Community at the touch of a button. I highly recommend checking out their stuff on YouTube, these guys are two of the best coaches in the game right now and have a way of making complicated techniques really easy to understand.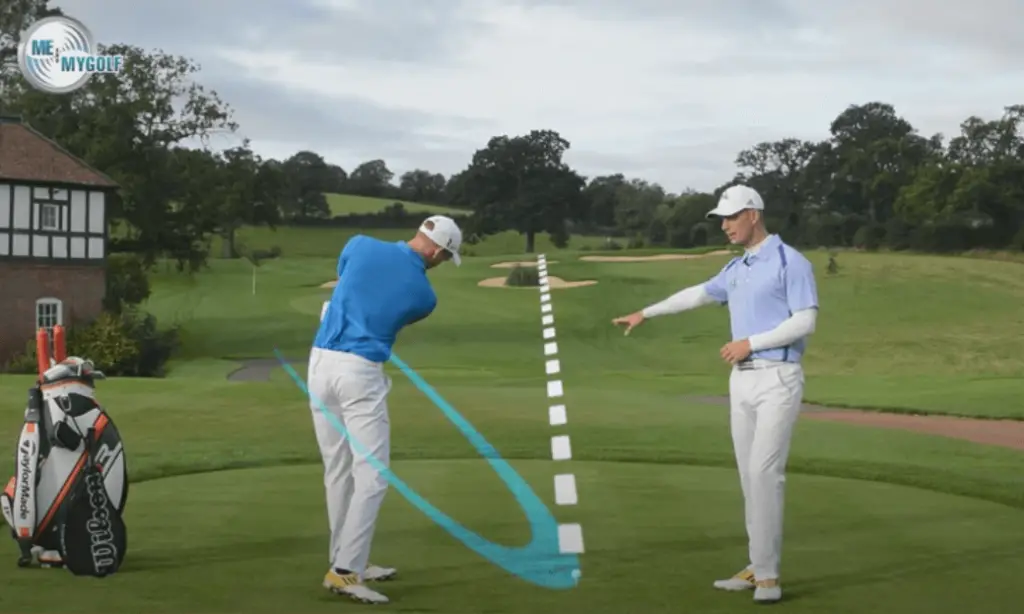 Golfpass
Join GOLFPASS today for exclusive golf content, golf instruction, golf travel, savings on tee times and video. One of my favorite benefits is if you golf at least once a month, it basically costs nothing as they give you $10 of tee time credits per month on the $99 annual plan. Trading $99 for $120 tee time credit on top of the already steep discounts sounds like a no brainer to me!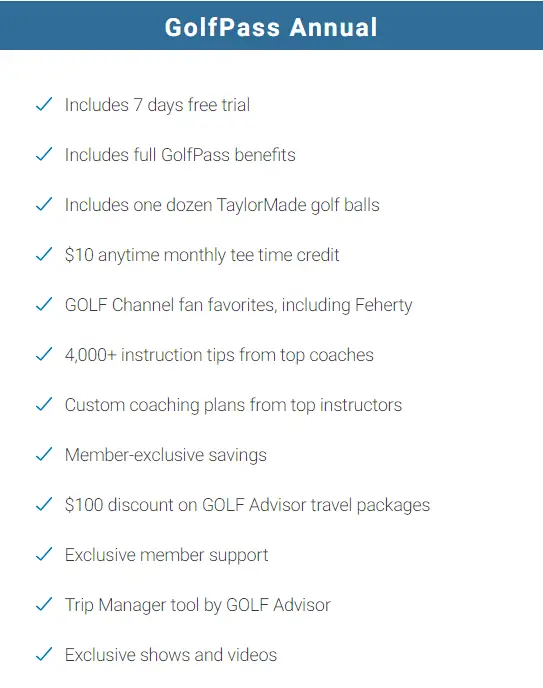 Golf TV
Keep up with the action with live streaming coverage and highlights from some of the biggest events in the world of golf. This membership is roughly $10 a month and gives access to live streams as well as a robust content database.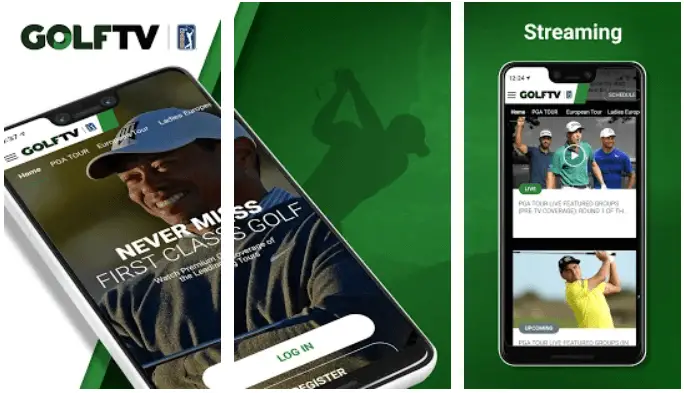 In-Home Golfing Simulator
The luckiest golfer in your life probably deserves this in-home simulator. Bring the virtual golf experience into your house! Host a tournament with friends, or compete online with golfers around the world. This is one of those gifts that makes everything else look like a stocking stuffer.
Golf Smart Watch
Fitness trackers have become a big part of many people's lives and health management. Garmin's Approach S40 captures all the usual data like steps, sleep and exercise, in addition to the integrated 41,000 course GPS. The Garmin Golf app allows you to track your scores, and compete with your friends and with other golfers around the world. Smartphone notifications sync right to your wrist while you're on the go, making this the number one accessory for the connected golfer. 
Membership to a Local Simulator League
Winter is a hard time for social golfers. Cold weather, rain and snow can keep the courses closed for months, and that's just not tolerable! A membership in a local simulator/virtual golf league can be priceless to get a golf fix during this intensely indoor season.
Check with your local golf courses and training centers for more information.
Portable Charger
Give the gift of power this year. One small gadget can completely change the outcome of a day just by keeping a phone charged. This portable charger has a 10,000mAh power bank that can charge via a power cable, or wirelessly for phones that are Qi enabled. Recharge it at home, or on the go using the solar panels. It even has a flashlight built in and comes with a compass, just in case you have to go deep in the rough hunting for your ball.
Wireless headphones
True wireless headphones are a game changer. There are no cables to interfere with your swing. You can just wear one and still be aware of your surroundings. These Jaybird earbuds are waterproof and ready for any weather. They're an awesome pick for anyone on your gift list, especially the golfers!
Bluetooth Speaker
The only thing better than a beautiful, chill round on a gorgeous day is that same situation, but with music. A Bluetooth Speaker with built-in course GPS is a must-have accessory for the 2021 season. Bushnell's Wingman speaker can do it all. One button push activates audible front, center and back distances from over 36,000 courses all over the world. Throw in superior sound quality and an astonishing ten hours of power, and you're ready for two rounds of golf without recharging.
A Flask
For the golfer that likes to sip on a little something special while enjoying a round, a flask makes a perfect gift! You can customize it to their preference or get a golf themed one like below.
YETI Travel Mug
Keep your hot drinks hot and your cold drinks cold! I never go out for a round of golf without my travel mug. If alcohol while golfing is your thing, pre-make a nice drink for yourself and forget the worry of being busted for outside alcohol.
Personalized Ball Marker
Get a custom ball marker made with an image, slogan or nickname of your choice. Personalized ball markers make a great gift and are likely to be kept for a very long time! These are items you keep in your bag or collection for life, unlike those dreaded golf balls that often find a way to lose themselves…
The best places to purchase these are on Etsy or on Zazzle.
Divot Tool
Every golfer needs a quality divot tool (if they can hit the green that is…). Many golfers collect these from the different courses they play and may not want to use those on a regular basis. Get them one that's easy to use and convenient.
---
Whether you're an avid golfer yourself, or you're looking for the best gift for someone else, there's a massive selection of golf gadgets on the market. Narrowing it down to the most impressive presents can be a challenge! Any one of our golf gift picks will satisfy even the hardest to shop for golfers on your list.